Did you know? Nearly 30% of Floridians voted by mail in the 2016 and 2018 general elections. If you're planning to vote by mail this fall, keep reading for more info on how to get your ballot + answers to all your FAQs.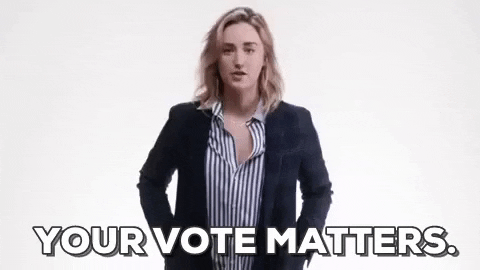 Vote 2020 | giphy
Is vote-by-mail the same as absentee voting?

Yes. Different states have different rules and regulations governing absentee and mail-in ballots. In 2016, the FL legislature changed the terminology from "absentee voting" to "vote-by-mail." 
Will ballots be mailed automatically to all registered voters? 
No. Mail-in ballots will be mailed to voters who request them (beginning Oct. 1 in Polk County). According to the Florida Division of Elections, "Unless otherwise specified, a request to receive a vote-by-mail ballot covers all elections through the end of the calendar year for the second ensuing regularly scheduled general election." FL voters who prefer to vote in person can still participate in early voting October 24-31 + on election day, Tuesday, November 3. FYI: Early voting in Polk County will take place on October 19-31, from 7 a.m.-7 p.m. (Thanks to Reader + local poll worker David R. for this information.) 
What are the requirements for vote-by-mail? 
✔️No special circumstance is needed to vote by mail in Florida (other than being a registered voter).
✔️To issue an official request, you must either submit: an online application on your county Supervisors of Elections' website; By other writing (e.g., by email, fax, mail) to Supervisor of Elections; In-person at Supervisor of Elections; By telephone call to Supervisor of Elections.
✔️The form must be completed in its entirety, signed, and returned by the voter or a close relative or legal guardian.
✔️After completing the mail-in ballot, the voter (or their designee) must seal the ballot in the container-return envelope provided and complete the vote-by-mail application and certification on the outside of the envelope. Note: If a voter decides to instead go to the polls, they should bring the ballot (whether it's marked or unmarked).
✔️As always, military personnel and overseas voters qualify for special voting options. Learn more about those options here.
Is photo ID required to vote-by mail? 
If you're not voting for the first time in Florida, you don't need to provide ID to vote by mail. If you are voting for the first time, in order to get registered, you will need to know the FAQS.
What is the deadline for voting by mail?
🗓️ Voters may submit requests for Vote-by-mail ballots through October 24.
🗓️ In order to be counted, mail-in ballots must be received by the Elections Board no later than 7 p.m. on election day, Tuesday, November 3. Remember: postmarks don't count.
🗓️ It is highly recommended that if you plan on voting by mail, you request your ballot now and return the completed form prior to election day to ensure timely processing.
Is vote-by-mail secure? 
✔️ Integrity Florida – a nonpartisan research institute – "found cases of fraud with mail ballots are exceedingly rare." 
✔️ Vote-by-mail requests are kept confidential through election day.
✔️ Poll workers can identify voters who have already voted-by-mail; therefore they will be unable to vote again on election day.
✔️ In our state, voter fraud is a felony punishable by imprisonment, a fine, or both.
This is part of our ongoing election coverage. You can learn more about our Editorial Ethics Policy and how we prioritize information regarding the upcoming elections here.