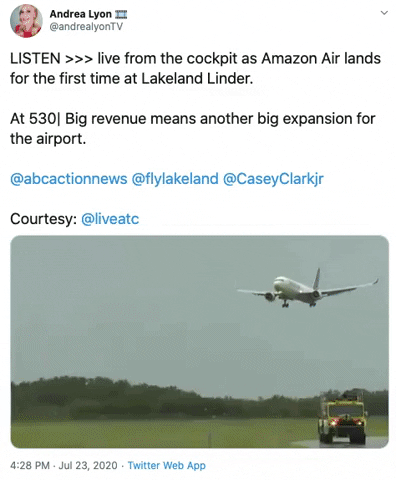 Yesterday, the Amazon Prime Air Boeing 767-300 arrived at LAL from Sacramento International Airport around 3 p.m. ✈️

⏪ Need a recap about Amazon Lakeland? Last year, we helped break the news that – under a multi-million dollar deal – Amazon was building a massive cargo center in Lakeland.

The hub is expected to bring 800-1,000 new jobs (75 of which must meet the minimum salary requirement for tax incentives) to the region and $80,000 a month to the airport in the first five years.

Quoteworthy: "We are thrilled to welcome Amazon to go to Lakeland and look forward to the facility creating hundreds of new jobs in the months ahead. We anticipate this community partnership will benefit Central Florida with enhanced technology and growing commerce. The city commission and I are grateful for the exemplary work performed by our Airport team, numerous city departments, and our partners at the FAA and FDOT for making this project a reality." – Lakeland Mayor Bill Mutz
📦 Ship this not-so-plane news to your friends, by using the buttons below.
Coronavirus
○ On Thursday, the Florida Department of Health announced 10,250 new cases of COVID-19 and 173 additional deaths in Florida. That brings the total number of cases in FL of COVID-19 to 389,868 and the total deaths to 5,518. You can find more updates on the Florida Department of Health dashboard. See Lakeland numbers here. (Wesh 2 News)

○ Polk County Public Schools are hesitant about reopening in just a few short weeks, McKeel Academy, a Lakeland Charter school, has decided to reopen its doors on Aug. 6. Teachers will return to work on July 30. Students do have the option to elect for virtual learning. (The Ledger)

○ In a recent address to the state, Gov. DeSantis shared that families + teachers can choose whether or not they would be returning to the classroom in Aug. He said that Florida's school districts should have the option to delay school starting by a "few weeks." Read the full story here. (The Ledger)

○ Universal Orlando updated its face mask policy regarding a "loophole" in the policy. According to the theme park, visitors were walking around without masks in the park while eating and drinking, so the company cleared up the policy by saying that guests must wear masks at all times unless they are actively drinking and eating, which can only happen in socially distanced situations. (Orlando Weekly)

○ Due to concerns over the weather, Lakeland Regional Health's main drive-thru testing center has relocated to the parking garage. Those looking to be tested can find the new location on the first level of the D-E Parking Garage. Hours will remain the same from 6:30 a.m.-2 p.m. Mon.- Sat. + 8 a.m.-12 on Sun. Additionally, LRH will debut a second drive-thru testing center in South Lakeland tomorrow, July 25. This new center will be located at the Medulla Community Center (1049 Parker Rd.).

○ Most Lakeland nursing homes have reported at least one COVID-19 case. Out of Polk's 10,545 cases, 933 of them came from elder-care facilities with 56% of the deaths associated with facilities, too. (The Ledger)
Hey, there. Looking for today's #MustDo events? In accordance with the CDC's recommendations regarding public gatherings, we have decided to postpone public event coverage for the time being. We look forward to bringing you Lakeland's #MustDo events soon (until then, feel free to submit your virtual events here).
#LALtoday
Let's take a trip down memory lane, Lakeland. Sometimes when we're absorbed in the "now" we forget about the "then" + our beautiful city is full of rich history.

So, in honor of #FlashbackFriday, we found this old photo of a weigh station – circa 1936 – posted by the Lakeland Public Library. And, fun fact, after reading the post, we learned that during the Great Depression, harvesting Spanish Moss was a means for an income for many unemployed 1936 LALers.

Do you have any old photos of Lakeland that you want to share? Send them to

[email protected]

. 📸
#DYK that your photo could be featured in our newsletter? Just use #LALtoday on social media.
News Notes
Weather
○ 89º | PM T-Storms | 50% chance of rain
○ After the news of Tropical Storm Gonzalo, forecasters are now predicting Gonzalo to form into a hurricane before reaching the Windward Islands this weekend. The current intensity forecast is unknown as well as what will happen after hitting the Islands. Due to the uncertainty of the storm, its impacts to Lakeland are unknown, so be sure to stay up to date via your local weather stations.

Announced
○ SeaWorld and Busch Gardens are offering free single-day tickets to the parks for US military veterans and three guests of their choosing. Veterans can also purchase up to four additional tickets for 50% off the regular price. This deal is active until Nov. 11. (Bay News 9)

Biz
○ Modern Canna Labs is now a Certified Marijuana Testing Lab after receiving licensure from the Florida Department of Health, Office of Medicinal Marijuana. Modern Canna Labs is the first lab in the state to test medical cannabis. Both facilities are located in Lakeland with over 12,000 sq.ft of a testing facility. (PR Newswire)

Cause
○ Starting today through Sunday, Family Fun Center (4825 Florida Ave S) is celebrating Christmas in July with a toy drive. This event will benefit the Peace River Center. If you are interested in donating, please bring new, unwrapped toys and receive a voucher for a free attraction. Click here for a full list of accepted donations. 🎁

DYK
○ A Surface Water Artificial Circulation Impact Study of Lake Mirror will occur throughout a four-month trial. This study will be conducted by The City of Lakeland Lakes & Stormwater Division and will include the installation of SolarBee® a solar-powered artificial circulation system. According to the City, the purpose of this study is to improve the water quality of Lake Mirror and potentially surrounding lakes. Read more about this news here. 🌊

Digs
○ If COVID-19 has made you apprehensive about putting your home on the market, that's totally understandable. But local agency S&D Real Estate says that, actually, this summer is the best time to sell your home. Here are 4 reasons why. 🏡 Ⓟ

Dish
○ Nothing gets feta than this. In honor of National Wine and Cheese Day (which takes place this Saturday), we've rounded up some of the best cheese boards in Lakeland. Head over to Red Door Lakeland (733 E. Palmetto St.) for a taste of their Grazing Platter + Frescos (132 S. Kentucky Ave.) for The Mason Jar Charcuterie. To make sure you're drinking just the right wine with your cheese, check out this guide for the perfect pairing. 🧀

Watch
○ This week's edition of Foodie Friday – the video series where Southern Homes shares cooking-at-home tips from their quaran-team – features homemade blueberry cobbler made by Sales Manager Ernie West and his kids, Ava + Cooper. Ⓟ

WaterCooler
○ The Major Arena Soccer League's Florida Tropics made its first offseason free-agent acquisition. The 2019-2020 Eastern Conference champs signed Milwaukee Wave defender Chad Vandegriffe to a two-year deal. ⚽
○ In the first scrimmage of the NBA Restart game between the Orlando Magic and the LA Clippers, five players had experience in Lakeland's G-League team, the Lakeland Magic. Those players include: Khem Birch, Wes Iwundu, Melvin Frazier Jr, BJ Johnson, + Vic Law. Nothin' but net, Lakeland.

Correction
○ In Thursday's newsletter, we said that federal unemployment benefits expire on June 25. Benefits actually expire on July 25. Thank you to Reader Chris W. for letting us know about this error + keeping us (and our calendars) on the right track.
#Shareworthy
The Wrap
🔄 Catch up on any newsletters you may have missed here.

💭 Say Hello: What do you want to know about your city?

✏️️ Want to write an article for us? Find out how here.

👀 Want your business featured in our newsletter? Learn more about advertising opportunities here.
Did a friend forward this to you?
It can be in your inbox tomorrow a.m.
| | | |
| --- | --- | --- |
| @LALtoday | Follow us. | #LALtoday |
Let us know if we've missed anything and say

[email protected]
Disclaimer: Content marked with a
Ⓟ
is representative of our advertising partners.
Want to receive LALtoday once a week instead? Update your preferences here.
Never want to hear from us again? Break our hearts by unsubscribing here.
Copyright © 6AM City, LLC, all rights reserved. Legal.
Greenville, SC 29602