Podcasts are a source of entertainment, news, insights + inspiration for over 50% of people in the U.S. 
Whether you're chasing the dream of building a business, a mom in need of tips, or a curious mind with lots of extra time on your hands (looking at you, quarantine), there's an abundance of podcasts out there to provide you with hours of audio leisure.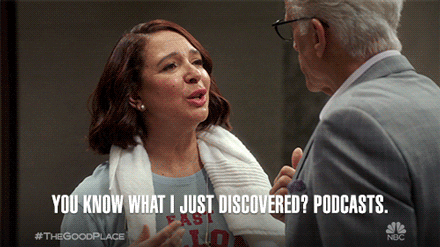 So if you want to join the 73 million Americans listening monthly, we recommend starting with these local podcasters.
🎙️The LakelandGov Podcast
Hosted by The City of Lakeland | Engage and be informed on news, the arts, events + stories featuring all things Lakeland. | Listen on Apple Podcasts, Podbean + lakelandgov.net.
🎙️ Low Down with Bump
Hosted by Lakeland artist Josh "Bump" Galletta | Listen to conversations with local creatives, business owners, bloggers + more as they talk about their life, business, and what inspires them. | Listen on Apple Podcasts, Spotify + bumpgalletta.com.
🎙️Think Much Podcast
Hosted by Loventas Chera + Lucas Fowler | Dive into curiosity as trending topics are discussed and debated. | Listen on Apple Podcasts.
🎙 The Zest Podcast
Hosted by Robin Sussingham | The dish on Florida's food culture | Listen on Apple Podcasts.
🎙️The Florida Men on Florida Man Podcast
Hosted by Greg, Wayne Mccarty, Josh Mills + Cameron Hayes | All about true stories, history + characteristics of the Sunshine State. | Apple Podcasts, Stitcher + more.
🎙️Blondes and the Buzz
Hosted by Hayley Chase + Mistie Collins | Spilling the deets on pop-culture drama + news | Listen on Spotify + Apple Podcasts.
🎙️ Fired Arts Podcast
Hosted by Randy Glotfelty + Tabitha Pennekamp | Explore local artists pushing out their latest pieces, along with their failures, successes + inspirations. | Listen on iTunes, firedartspodcast.com or subscribe on Android.
🎙️ Cam Podcast
Hosted by The College of Arts & Media at Southeastern University | Listen to further understand how journalism, media and other areas of communications interact with Christianity. | Listen on cam.seu.edu.  
🎙 Two Attached Podcast
Hosted by Ashlynn Hotchkiss + Kaley Pfingston | Two foster moms, sharing stories + insights on parenting, friendship, and marriage. | Listen on Spotify, Apple Podcasts + more.
🎙️  POLKcast
Hosted by Polk State College | Hear the inspiring stories of students, faculty + staff. | Listen on iTunes, Spotify + more.
🎙 The Jae Choe Show
Hosted by Jae Choe, Lakeland Martial Artist Coach | Guests discuss the dynamics of professional success + personal life | Listen on Apple Podcasts.
🎙️ Framework Leadership
Hosted by Kent Ingle | Inspiration on what it takes to be a leader. | Listen on Apple Podcasts.
🎙️ PR & Politics
Hosted by McLeod Communications | Conversations about politics, crisis communication, public relations + more. | Listen on iTunes + Soundcloud
🎙️ Movies On The Side
Hosted by Nate Baranowski and Stephen Robles | "Bad movies, mayonnaise, and everything in-between" | Listen on Apple Podcasts, Spotify + more. 
🎙️SHIFT
Hosted by Lakeland Chamber of Commerce | Learn about ways Lakelanders are activating the "3 C" vision professionally + personally. | Listen on Google Podcasts, Spotify + more. 
Disclaimer: This is not a complete list of every local podcast. Are there any we missed? Let us know. 
Quiz