Summer 2021 Walt Disney World updates
As Walt Disney World approaches the 1-year mark of its reopening after almost 4 months of closure due to COVID-19, changes have been implemented as The Mouse looks towards normalcy.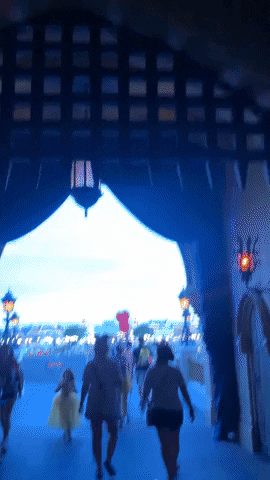 Giphy via LALtoday
Since our last update, the parks have implemented a handful of changes. Should you plan to visit this summer, here's what you can expect:
Fireworks are back

. As of

July 1

, both

Magic Kingdom + Epcot

have resumed their respective shows.

Masks are no longer required

for vaccinated guests.

Originally

, masks were

optional outside

, but now, masks are

optional across the entirety of the property

,

except while on Disney's forms of transportation.

Physical distancing markers

have

officially begun the removal process

across the park's ride queues, restaurants, transportation lines, and more. While keeping your distance is still strongly encouraged,

guests will no longer have to wait 6-ft apart

in lines.

However, many attractions will be operating at a limited capacity.

All 4 Disney parks have

increased capacity

from their original

35% to an unspecified amount

.

With the capacity increase

, the park pass reservation system has also increased the park's availability for guests.

While not all resorts are open and fully operational

, a handful has reopened or are on the books to open soon. Most recently,

Disney's All-Star Movies Resort

has reopened with both

Disney's Boardwalk Inn

+

Disney's Polynesian Resort

slated to

open this July

, followed by Disney's

All-Star Music Resort

,

Disney's Port Orleans Resort

and

Disney's All-Star Sports Resort

this

Sept.-Dec

.

Also on the list of re-openings is

Blizzard Beach

. The 1 of 2 water parks

reopened in March

to the public for the summer season 
2021's Walt Disney World updates
If you're a Disney passholder here in Polk County, or, you're itching to get back on property safely this year, it's important to know that the parks are far from "normal" for those looking to hit Main Street this year.
From an updated park-hopping policy to resort availability, here's what you can expect in 2021 at Walt Disney World.
Other whisperings of change to come this year include the opening of new rides, attractions, restaurants, and potentially even the return of fireworks at a limited supply.
2020's Walt Disney World Updates
Happy Friday, Lakeland. Katelyn here. 👋 Before I kick-off this conversation, please note that I am in no way promoting visiting theme parks during a pandemic, I am a paying passholder with a monthly fee and at the very least, wanted to check out the parks to see what Disney's implemented and if I felt safe. 
Understanding the Park Pass Reservation System
The first major change to hit Walt Disney World's phased reopening was the reservation system for park visitors. Due to a decrease in park visitors + to effectively practice safety protocols, guests are no longer able to waltz into any park they want on any given day. 
Now, Disney has implemented a reservation system where passholders, regular ticket-holders, and resort guests, can select the days of their choosing and the park with open availability. Once your day is reserved, you can enter and exit that park anytime between opening + closing. #ProTip: Hollywood Studios has been filling up the quickest so make those reservations in advance + if you don't get the park you want, check back – people cancel all the time. 

Screenshot via Walt Disney World
COVID-19 safety protocols
To be honest, my biggest concern, being a life-long Disney kid was, "how is a theme park going to make me feel safe during a pandemic?" Well, surprisingly, Disney does a pretty good job. The parks are already at a limited capacity, so depending on the day and the park, the vibes can become a little abandoned ghost-town-esque. 
Before you enter the park, whether you're a resort guest or a day visitor, all must enter security where bags are checked and temperatures are scanned. Anyone attempting to enter the parks with a temperature above 100.4 will not be admitted entry. 
Another big change to the parks in light of the pandemic are masks. All guests + cast members (Disney employees) must wear a face covering while on property, whether you can social distance or not. Disney is pretty strict on this rule and even those eating or drinking must do so stationary.  Additionally, certain masks (neck gaiters, vents, + bandana) are not permitted. For full details on Disney mask etiquette, click here
If you're worried about social distancing, the parks have implemented safety markers at least 6-feet apart. In most ride ques + other spots around the park where crowds could gather (restaurants, cavalcades, etc) the markers are well over 6- feet apart + ride queues have plexiglass dividers to keep all guests safe. ProTip: If this is your first time wearing a mask for 10+ hours in the Florida heat, bring multiples with you until you find one that is the most comfortable + if you're going to wear disposable masks, bring back-ups in case of rain.
Poll